At Awesome Wedding Cakes we offer full sheet cakes. A sheet cake can serve as a buffer for when you are not certain how many guests are going to attend your reception. They can be any flavor cake. We also fill them, and so they can also have any flavor filling- just like your wedding cake. Or, if you prefer, there will be no filling.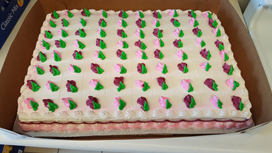 They are scored on top- meaning they have a line which is a dent. 8 x 10 squares. We then place a rosebud with a leaf on each square. You will get 80 servings.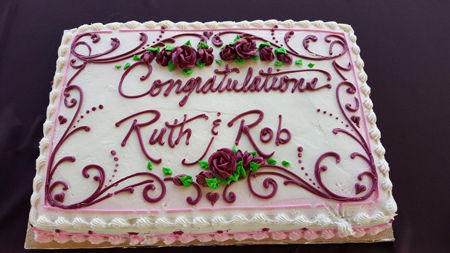 We can also decorate them with flowers and writing. Have a look at the pictures for examples. We use your designs and your colors. We can even make it custom to whatever you think up- such as a hobby or work or something else. Bring us your ideas. We will turn them into a reality.
To separate, or To stack your cake
by baykerboy | July 22, 2018 | Cake Ideas | 1 comment

At Awesome Wedding Cakes, we can stack your cake. Or, we can place dividers in between each tier to create space for more flowers or decorations. Dividing your tiers does not cost more! That space can be 2 up to 4 inches. There are no advantages or disadvantages to stacking or not stacking your wedding cake. It just depends completely upon how you want your cake to look and the presentation you desire. Generally speaking, if you separate your tiers you will need more flowers. But, it looks great! Here are a couple of examples: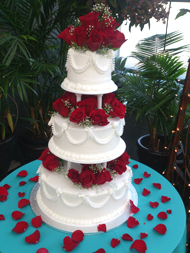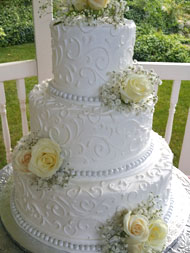 Call or text or email with any questions.
Also, if you have ideas we can help you figure them out and make them a reality!




Ideas, Ideas, Ideas!
by baykerboy | January 24, 2018 | Cake Ideas | 1 comment

At Awesome Wedding Cakes, we love creating unique, personalized designs for our brides and grooms. Whether your wedding is an informal backyard affair in a private residence, a swank evening reception in a mansion, a chic hotel, or one of the many wonderful venues around Utah and Salt Lake Counties, we will work collaboratively with you to create a design that matches the look, mood, and feel of your wedding. The inspiration for your cake can come from anywhere: a family heirloom, your invitations, a china pattern, a postcard even another cake design which you may find in an internet search. We work exclusively with buttercream exteriors.

We want you to love your wedding cake! Our cake gallery represents our signature styles, but you are not at all limited to these cake designs.

So, send us your ideas. Draw a picture and text or email it to us. We will make your ideas become a reality in creating a memorable cake for you.

Call, text or email.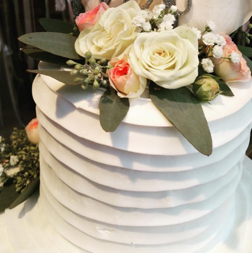 Please read our FAQ's for more information.




Quinceañera!
by baykerboy | March 21, 2017 | Quinceañera Cake | 2 comments

Awesome Wedding Cakes does Quinceañera Cakes. You'll want to turn 15 again! We can help you find a Quinceañera cake that is completely classic or you can be creative and let your imagination run wild. We use buttercream exclusively and do not do square cakes.

From classic princess to old School Hollywood, Quinceañera cakes with fresh or silk flowers are a classic trend that matches any theme and style.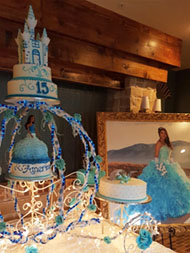 Whether you're trying for something classic or creative, bring us your ideas or send us your pictures.

Sometimes there is a group of cakes arranged together on cake stands and connected by miniature staircases.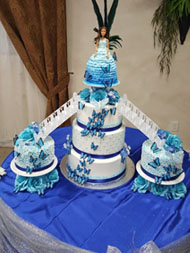 If you choose, the staircases may hold little figures representing the honor court of the quince party. A larger doll (a Barbie works best) representing the Quinceañera stands atop the tallest cake.

Another common style of Quinceañera cakes looks very similar to a tiered wedding cake. They can be stacked, or have pillars holding each tier up. Typically, these quince cakes have three round tiers and are decorated to match the Quinceañera's dress.

Cakes also feature a Quinceañera cake topper such as a glittery "15," or sometimes a tiara.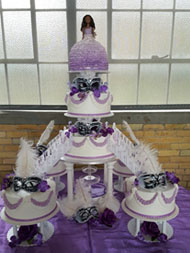 Send us your ideas. Call us for a taste test. We are available most late afternoons and evenings. We are in Mapleton.

English call Sam 801-368-2433

Spanish call Samantha 801-362-3839


Quinceañera!

Awesome Wedding Cakes también hace pasteles Quinceañeras. Con nuestros pasteles, ¡vas a querer cumplir los 15 años de nuevo! Podemos hacer un pastel de un estilo clasico, o podemos ayudarte a crear un pastel que sea totalmente de tu propio diseño e imaginación.

Ya sea con el tema de princesa o de mascarada, el poner flores tanto frescas como de seda sobre tu pastel es una idea muy de moda que puede jugar con cualquier tema.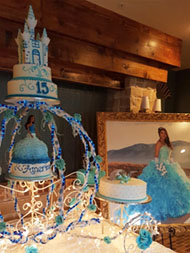 Mándanos tus ideas y fotos de cualquier estilo que tengas en mente.

Los niveles del pastel pueden estar separados, conectados por unas escaleras, o los niveles pueden estar apilados, como tu quieras.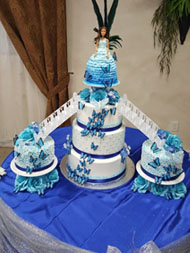 Sólo usamos crema de mantequilla (buttercream), y no hacemos pasteles cuardrados.

También hemos hecho pasteles con muñecas, de verdad no hay limites en las posibilidades.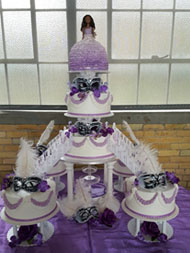 Los pasteleros tambíen podemos usar para crearte el pastel de tus sueños.

Nos encantaría conocerte y platicar de este evento tan especial. Sería nuestro honor sincero ayudarte a llevar a cabo tu quinceañera, para que sea un día inolvidable. Por favor, mándanos tus ideas. Llámanos para probar nuestro riquísimo pastel. Estamos disponibles la mayoría de los días, en la tarde. Estamos ubicados en Mapleton.

Para Inglés llama a Sam 801-368-2433

Para Español llama a Samantha 801-362-3839




Cake Topper? Or not.
by baykerboy | March 13, 2017 | Cake Topper | 1 comment

Here at Awesome Wedding Cakes we do not provide cake toppers. However we do encourage them. The best place to look for cake toppers is your imagination. Think it up.

Then, type it into a Google, eBay, or Amazon search. What you will get is at least a million ideas for your particular cake topper and a lot more.

We recommend expecting to put a few flowers up there with your topper- whether fresh, silk or buttercream, they look nice and help the cake topper blend nicely with the rest of your cake. Or not! Put nothing up there with your topper.

Keep in mind the top tier of most wedding cakes is 6 inches in diameter. That means the base of your topper needs to be no more than 6 inches. However, 4 or 5 inches is the most accommodating. Also, if it weighs more than a few pounds, we will need to put some support under it. (at no additional charge)

There are lots of examples here on our site which can give you ideas.

Here are just a few: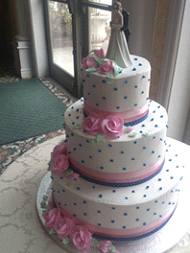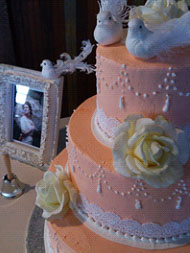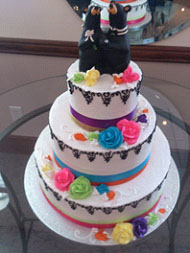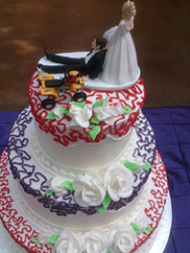 There are many, many more ideas! You just need to find the one which fits your reception and your cake.

Have fun out there. It is your special day.


What kind of flowers should I use to decorate my cake?
by baykerboy | Feb 25, 2017 | flowers | 1 comment

The answer is... any kind you want.

Here at Awesome Wedding Cakes, our pricing includes our buttercream roses. Here are a few examples: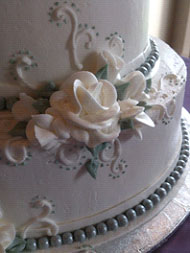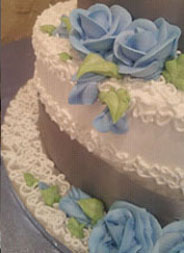 (Check out the silver/gray beads on the left hand cake- they are sixlets chocolate candies- great idea)

If you are going to decorate your cake with silk flowers or fresh flowers or anything else, then you would provide them and we will arrange them on the cake for you. There is no charge for this service.

You may also consider gum paste flowers. These are hand made flowers which usually come in white. We have an airbrush and can color them or highlight them to match your colors. Here are a few examples: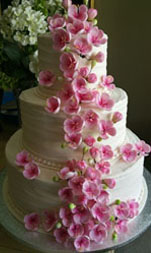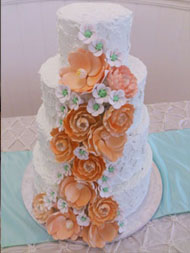 There are many more examples on this website. Also, if you do a Google, eBay, or Amazon search for gum paste flowers, you will get a million.

If you bring fruit such as strawberries or other berries, succulents or any other kind of decoration, we will arrange it on the cake for you.

Whatever you decide to do or use, we will make sure your cake is awesome!


How soon do you need your cake?
by baykerboy | Feb 23, 2017 | Awesome | 1 comment

Here at Awesome Wedding Cakes, we can make you a cake as fast as you need it.

If your Aunt Mable is supposed do your cake for you, and then, well, she can't. Or, your friend who lives down the street has agreed to do your wedding cake because she took a Wilton Cake Decorating course and is now an expert, but has chickened out. If the bakery you hired to do your cake has for one reason or another stood you up- ouch!

Fear not! All is not lost. Awesome Wedding Cakes can make a cake for you in as little as ONE DAY. Yep- one day. That is a fast wedding cake. Wow. We do not charge extra for this service. WHAT!? Nope same price.

No one will know! And, your cake will be as awesome as if you ordered it a year in advance. Your friends and relatives will think you are awesome.

So go ahead and let your relative or good friend make you cake. I actually encourage it. It makes a wonderful day that much better.

But, if things don't work out, call me, text me, email me, or message me. Any of those will work.

Awesome Wedding Cakes to the rescue.


Buttercream or Fondant?
by baykerboy | Feb 11, 2017 | Awesome | 1 comment

Here at Awesome Wedding Cakes, we use buttercream exclusively. No Fondant. Why would we do this? Well, Fondant makes for the most perfect look with flawless lines and velvety texture. Unfortunately, fondant does not always taste good. Decorators who are not familiar working with it will sometimes put it on too thick. And if it sits too long the "skin" can become a crust. In my opinion, the cost is prohibitive.

Our buttercream is delicious. Even with a little "skin" or crust the taste is still exceptional. We use the same BLV formula which was used at the World Famous Tan Top Bakery in Orcutt, California. Formulated by my Father, Howard Keele, the greatest Cake Decorator in the World!

With our buttercream, we can get very close to the look of most fondant designs. Buttercream can be manipulated into many styles and textures. We have an airbrush we use sometimes for custom cakes. An example is the "Sea shore theme" which is popular in the summer time. The Quaky bark wooden look also is enhanced with an airbrush

We do taste testing! Make an appointment. You can sample our delicious cake and world famous buttercream.

Call, or Text, or Email to make an appointment with Sam Keele today.


Send us your ideas.
by baykerboy | Jan 7, 2015 | Uncategorized | 1 comment

You have landed here because you want an inexpensive wedding cake which is awesome and beautiful. Our cakes are not cheap! Only the price is cheap. The cake is baked in a real live bakery. Then it is decorated by an award winning cake decorator in a real live kitchen. Order your cake with confidence that it will taste delicious and look beautiful.


Check us out on our FaceBook Page. There you will find the most recent cakes we have made.




also find us on: